Snuffy Update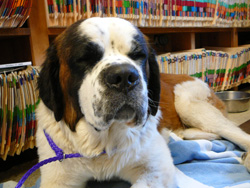 As many of you may remember, Snuffy is a gentle young male Saint Bernard who was found injured at the side of the road at Donner Lake after apparently being hit by a car. An employee at Mountain Hardware brought Snuffy to us for help.
After all of this and years later, we thought many of you who helped, would like to know that Snuffy could not be doing better! He was adopted by Donner-Truckee Veterinary Hospital's Office Manager, Nedra. He continues to have a happy home life. He has learned (reluctantly, and with the aid of a life preserver!) to swim and enjoy the mountain environment in all its beauty. He adores his "sister" who is a fireball of mixed breed who also challenges him to stay active. He enjoys adventures to the dog parks and absolutely adores meeting new friends of all species everywhere he goes! He is a master of relaxation, the play blow, "so happy to see you" vocal greetings, he loves his balance board and the snow. He is a home body too and very devoted to his family.
Thank you so much for making his life possible. The rescue fund made in his name remains as active as possible in these though times.
We appreciate any donations and contributions made to Snuffy's Rescue Fund. If you wish to contribute to Snuffy Animal Medical Emergency Fund (SAMEF) please call us at (530) 587-4366 or stop by Donner-Truckee Veterinary Hospital. We are always so very grateful for any contributions and sincerely appreciate all you do for the animals of our community.